Collective Actions
A. Monastyrski, V. Miturich-Khlebnikova, N. Alexeev, G. Kizevalter, N. Panitkov, M. K., A. Abramov.
SLOGAN - 1977

"I DO NOT COMPLAIN ABOUT ANYTHING AND I ALMOST LIKE IT HERE, ALTHOUGH I HAVE NEVER BEEN HERE BEFORE AND KNOW NOTHING ABOUT THIS PLACE".
(a quote from A. Monastyrski's book "Nothing happens")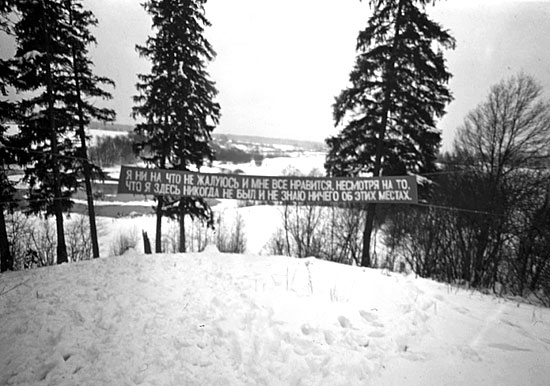 The performances by the group Collective Actions played a significant role in the development of an alternative space for communication in Russian-Soviet culture during late communism. It facilitated the self-organization of a subcultural art scene apart from the state-controlled cultural sector, access to which was regulated by strict censorship policies. The common objective of the Trips out of Town, having taken place since 1976, is the collaborative journey of a group of participants into the rural countryside around Moscow – usually into a wide, empty field, that is, away from the metropolitan sphere imbued with symbols and into an "empty" natural space. Often a field of untouched snow has been the stage for mysterious Minimalist actions that fathom elementary spatiotemporal structures of perception. For the Collective Actions, the exploration of the Soviet ideological culture of texts, manifestos, and slogans is not, however, reduced to the instantaneous perception of a situation. In fact, the situative gesture of "experience" more closely equates to a new impulse in an endlessly interpretative spiral in which text and situation enhance each other again and again.
Online Archive of the Collective Actions: http://conceptualism.letov.ru